By Jess Kusak
Nevada State College opened its doors to over 200 new and transfer students for the 2nd annual Scorpion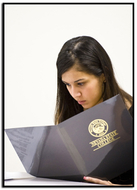 Welcome. This student orientation event brought together current NSC students, faculty and staff, as well as family and friends to welcome new fellow Scorpions and usher in the 2009 – 2010 academic year.
The Scorpion Welcome is a huge success for us, said Nevada State College Provost Dr. Lesley DiMare. We re thrilled to have so many new students and their families in attendance.
The Scorpion Welcome is the culmination of a series of student orientation seminars that took place over this past summer. These preliminary seminars helped new and transfer students to NSC begin the process of getting acquainted with the college and its amenities. The Orientation and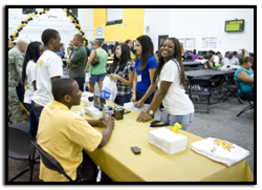 Welcome Program has changed and grown by leaps and bounds. Our focus was to be able to serve as many first year and new transfer students we could, and the success of this event is a testament to that, said Jerica Turek, NSC Student Activities Advisor.
Through this two-step process, students received guidance from the Financial Aid office, met with their academic advisors, and registered for fall semester classes. All of these aspects of NSC's Orientation and Welcome Program play an integral role in helping new and transfer students become familiar with the resources available to them and how to effectively navigate different aspects of the campus. In turn, these things assist students in starting off in college on the right foot.
Since the college experience is so different from high school, these programs provide new students to NSC all of the answers they need in order to succeed, said Turek.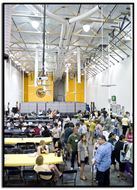 During the Scorpion Welcome, students met with representatives from their degree programs and participated in various informational seminars from many of the institution's student services offices, including the Office of Information Technology, the Registrar and Student Cashier's Office, Student Academic Center (SAC), Multicultural Affairs, and Resource Center for Students with Disabilities (RCSD). Representatives from the Scorpion's Tale, NSC's student led publication, as well as Nevada State Student Alliance, NSC's student government, led discussions on the myriad of ways to become engaged in the campus community.
The day also included many social interaction opportunities, as Orientation Leader and NSC Senior Jason Green explained. Students took part in team building activities, which helped them become familiar with their peers and get more comfortable with their new surroundings at NSC. Green added, To watch our campus and its programs grow not only benefit our students, but the Henderson community as well.
Ashley Brown, another Orientation Leader, has had the unique opportunity of watching the Orientation and Welcome Program develop into what it is today, as she was one of the college's first Orientation Leaders. It is amazing to see the program branch out and grow into what it is now. This is a testament to how the college is always willing to try new things and put its students first, said Ms. Brown.
In addition to welcoming new students to NSC, the Scorpion Welcome also served as a homecoming to many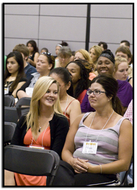 alumni of the college who were in attendance. Our alumni are here talking with the incoming students, showing the life long connection between NSC and its graduates, said Provost Di Mare.
As the 2009 Scorpion Welcome wrapped up, new students and their families left in high anticipation of the fall semester.
It was encouraging to see all of our new students be so excited about Nevada State College, said Ms. Turek.