By Jessica Kusak
August 22, 2008 will mark the graduation of the fourth Accelerated Nursing program class at Nevada State College. 34 graduates will be honored with a traditional pinning ceremony held at the Dragon Ridge Country Club.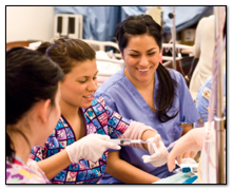 The success of this program, which began in the Fall of 2004 with a grant and the support of Congressman Jon Porter, speaks for the excellence of NSC's School of Nursing and ongoing commitment to the community. When the program started, it was supposed to begin with a very small group, but there was a lot of interest and the class size was quickly increased, says Professor Kelly Mecham, a Lecturer with the Accelerated Nursing program.
Because this one-year program, which runs from August to August, is available for students already possessing a bachelor's degree, the students entering this program come in with an array of life and professional experiences. It is always great to sit through that first orientation and listen as students introduce themselves and talk about their backgrounds, says Mecham.
Entering students have previous degrees in biology, psychology, kinesiology, business, marketing, health care administration, education, and nutrition. Some students have Masters degrees in various areas; however, they are choosing to transition into the nursing profession. With the wealth of diversity in this educational pool, these students would have a myriad of educational options available to them. They have made Nevada State College their institution of choice to fulfill their educational pursuits.
Given the ongoing need for qualified nurses in Nevada, the program provides the necessary training to meet the demands of the profession. For students considering nursing as a career, the accelerated nursing track offers a swift transition from the classroom to the workforce. Graduates go on to work for hospitals, public health agencies, schools and various health care agencies. Once students graduate from the accelerated program, they are qualified to take the registered nursing licensing examination (NCLEX-RN).
The Accelerated Program was an ideal choice for April Roemer (08) because she was ready and eager to enter the workforce as a pediatric nurse. April's journey into nursing was not as direct as most. With a B.S. in Biology, she had her sights set on medical school. April studied to become an osteopathic physician for nearly two and half years but felt something was missing. She was immersed in what she initially thought would be her career path but came to the realization she was not truly passionate about it.
April always enjoyed the people aspect of medicine and wanted desperately to work in a hospital setting. After some reflection and with the support of her husband, she realized nursing was the career path for her. Nursing basically chose me when I was accepted in to the program at NSC, April said of the Accelerated Nursing Program. As she nears the completion of the program, she is excited to have so many options available to her when she graduates. April sums up her path into nursing by simply saying, I have truly found my passion!
It would be an understatement to say Morgan Gregory (08) has her hands full. As a mother of a four-and-a-half-year-old and three-year-old twins, she already has had a well versed academic and professional career under her belt. Morgan holds bachelor's degrees in mathematics and Criminal Justice and had an exciting career path working in private investigation.
Similar to April, Morgan felt as though something was missing in her career; she still wanted to maintain the element of helping people through her career. Working in nursing would allow her to do so and would be more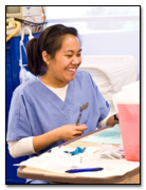 than just another job. Morgan knew going in this program would be intense, but she viewed the challenge as temporary with lifelong benefits. She cites hard work, dedication and flexibility as being key to succeeding in this program, which is in keeping with the nature of the nursing profession. Morgan is eager to enter the workforce in either labor and delivery or pediatrics. The accelerated program will not be the end of Morgan's educational pursuits, as she is hoping to attain her master's degree with the possibility of teaching in the future.
With every graduate from the Accelerated Nursing program, Nevada State College is making a positive impact on the community. It is always wonderful to see our graduates working on the floors in our local hospitals and in the community, says Mecham.
Nevada State College's Accelerated Nursing track is giving the nurses of tomorrow the chance to achieve their career goals and do so in a shorter amount of time. Whether nursing is your first career or maybe even second or third, there is an option to put you on the fast track to success.
For more information on Nevada State College, call: 702.990.2000 or visit: nsc.edu.