By Mandi Enger
Students, faculty and staff had a unique opportunity during the fall 2012 semester to contribute to the history of Nevada State College by taking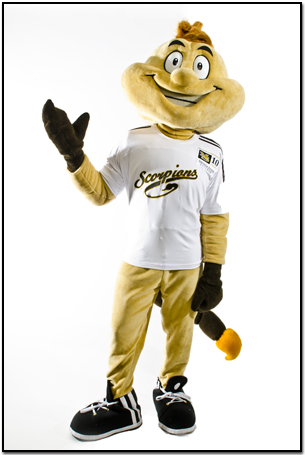 part in the official naming of the college's scorpion mascot. The name "Scotty" was chosen during the campus-wide selection process held September 4 – 21.
Suggested by a student, the acronym SCOTTY stands for Scorpion Community of Today, Tomorrow, Yesterday.
During the first two weeks of the process, the campus submitted over 200 name ideas for the mascot via an online nomination form. The names Scotty, Sullivan and Stinger were then selected from the full list of nominations as finalists by an on-campus committee comprised of students, alumni, faculty, staff and administrators. The committee selected the names based in part on the name's total number of submissions as well as other criteria such as creativity and how it reflected the spirit of NSC.
The final round of voting was open for one week, closing on September 21. Nearly 250 total votes were received.
The overwhelming participation and enthusiasm for the naming of our mascot is a true representation of the spirit and campus pride at Nevada State College, commented NSC President Bart Patterson.
In 2002, the first class of NSC students also had the chance to be a part of the college's history as they voted to select the institution's mascot and colors. During our early years, gold scorpions made regular appearances around the Dawson building, said Rho Hudson, Ed.D., an associate professor of education. The scorpion mascot and the school colors of gold and black were a perfect fit with our surrounding landscape.
The college's six-foot scorpion mascot was first introduced, without a name, to the campus and community in April of 2012 during the Henderson Heritage Parade.