By Jess Kusak
Navigating the collegiate world can be an adventure ride full of ups and downs for new college students. The Centralized Advising Academic Center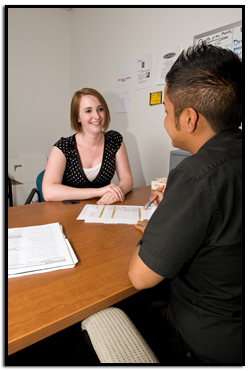 (CAAC) at Nevada State College is striving to ease the twists and turns of academia and help make the road a little less bumpy for students.
Providing consistent and effective advising is the cornerstone of the Centralized Academic Advising Center, a newly established full-service advising program at NSC. This new delivery model of advising is now headed into its second semester of operation.
As NSC grows as an institution, this centralized advising system will allow for better tracking of a student's progress through their majors, said Lee Young, NSC Associate Vice Provost of Enrollment Management.
The CAAC staff, currently comprised of academic advisors and support staff from Student Experience, mainly serves declared, undeclared, or pre-major students who have earned between 0-59 credit hours. The CAAC staff guides students entering their NSC core curriculum requirements, selecting introductory and/or elective courses as students progress toward the upper-division courses within their respective majors.
The impetus for focusing on the early stages of a student's coursework is rooted in establishing a solid
foundation for students. If we can make certain that the student's initial foundation is solid for those first years in their core requirements, as they move on to the more demanding upper-division course work, they will be as prepared to tackle them effectively and make successful progress toward their degree, said Young. The CAAC staff additionally advise students of the various academic policies and standards to remain in good academic standing at the college.
The CAAC is currently located in the Liberal Arts and Sciences Building. As Young explains, since the college has three locations, locating the center in the LAS building was the most effective way to reach their target audience students with 0-60 credit hours, as the bulk of the classes will take place there.
Every students needs are different. Many work full-time and have commitments outside of school that must be maintained, said Young. To answer the wide-ranging needs of the NSC student body, the CAAC also has representatives from the Registrar and Financial Aid offices on site regularly, so the full spectrum of a student's needs can be addressed in one place. Additionally, the hours of the advisors are staggered, so students who can only come to campus during the early morning or in the evening can still receive the same one-on-one time with an advisor.
Young is quick to point out the assistance students receive from their advisors is not simply limited to selecting classes and a major. On the contrary,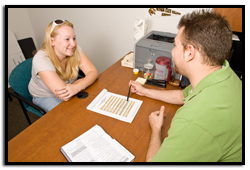 Young says the advisors are there to encourage and assist students in making responsible and reasonable academic choices as they progress toward graduation. What one student can do with ease, another student may not be able to whether it be scheduling time to see an advisor or maintaining a certain amount of classes. The advisors at the CAAC can address these issues in a systematic way, he continued.
As the NSC campus community grows, the landscape of advising grows as well. Young notes, we want to use the CAAC as a way to make certain the initial foundation the student has at NSC is very strong, successful, meets their needs and guides them in the right direction.