By Jess Kusak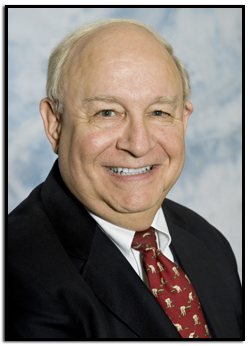 During his 48 years working in the profession of fundraising, Nevada State College's Associate Vice President of Development, Dr. Russell Raker, has enjoyed many awards and accolades for his work. Recently named Professional of the Year by the Las Vegas Chapter Association of Fundraising Professionals, Raker is especially proud to be recognized for his work at NSC.
This award is meaningful, as NSC is also being recognized as a player in philanthropy within the community, said Raker.
The Professional of the Year award Raker received celebrated the work he has done in the community that not only strengthened the awareness of NSC, but also the collaborative relationships he has developed with other non-profits within the state.
Raker joined the NSC community in the fall of 2007. For the majority of his career, he had worked in the private sector, and notes the college's mission and values as being a draw for him. What interested me most about NSC was the students we were serving, and providing opportunities for culturally diverse and first-generation students, said Raker.
Having a professional career many can only aspire to, Raker shares that his experiences of working alongside NSC's leadership team to achieve the institution's goals has been particularly rewarding. The mission of the college along with the leadership team has been exciting to be a part of, said Raker. To be able to market the mission to potential donors and make them aware of what NSC is trying to do, have really been a dream come true, he continued.
Founded in 1960, the Association of Fundraising Professionals has approximately 40,000 members worldwide. As a professional association for individuals and organizations, AFP's members work within the fields of fundraising, grant development, and institutional advancement. Raker has been a member of AFP since 1968, when he began his master's and doctoral work at Columbia University in New York City. In fact, one of his professors was one of the founders of AFP, who urged students to join the then fledgling organization. Decades later, Raker had never imagined he would still be actively involved in the fundraising profession.
Over his career, Raker has literally seen the profession of fundraising grow and change. As one who has never shied away from new frontiers, he speaks to the exciting possibilities that he would like to see happen for NSC's fundraising program. In the years to come, it is my dream our institution is able to create a comprehensive fundraising program to address the growing needs of NSC as the college develops in the future.