By Jess Kusak
The dream of obtaining a college education is becoming a reality for many Nevada State College students through numerous scholarship, grant and loan opportunities available at the college.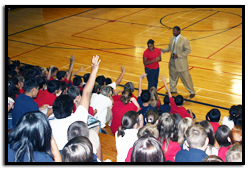 The generosity of local businesses and community members provides a multitude of scholarships for deserving students. Most recently, Nevada State College, through its Foundation, received good news from Wells Fargo Bank. The bank will award $10,000 for qualified students pursuing a degree in business. This scholarship will afford $5,000 per year for two students.
The Wells Fargo Scholars Program is one of many funding sources available through the College's Office of Financial Services and Scholarships. This office, as a result of the Foundation's fundraising efforts, provides scholarship opportunities across all areas of study at NSC. Among these opportunities include the Silver State Schools Credit Union Scholarship for education majors, the St. Rose College to Careers Scholarship, which makes available $4,000 per year for up to ten nursing students and the Glenn and Ande Christensen Scholarship, which furnishes a freshman student $5,000 for each of their four years at NSC.
In addition to scholarship opportunities, financial aid in the form of educational loans and grants provide other avenues for funding a student's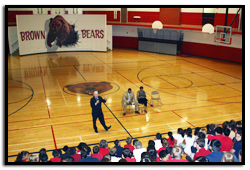 education at NSC. The Office of Financial Services and Scholarships provides NSC students with over $5.5 million in financial aid annually. One-third of students receive some type of financial aid, with the average award being nearly $6,000 per student.
One very telling statistic is that since NSC's inception, 65% of our graduates have been financial aid recipients, indicating the important linkage of being able to pay for college and actual graduation, said Neil Woolf, Director of Student Financial Services and Aid at NSC.
Some additional compelling statistics Woolf shares is that this fall semester, the college has had 100 more students receive a Pell grant than the total for both semesters last year. We encourage our students to apply for aid, and often times, they may be surprised as to what they are actually eligible for, Woolf states.
Funding for a college education at NSC is now not limited to college students but local students in the Clark County School District (CCSD) as well. The NSC Promise Program is a joint effort between the Office of Student Financial Services and Aid, The Nevada State College Foundation, Enrollment Management at NSC, and the CCSD. Under the program, students from as many as six local elementary schools have the opportunity to receive scholarship assistance and mentorship until they reach college.
Hannah Brown, who is a Nevada State College Diversity Council member and NSC Presidential Award recipient, has been instrumental in finding role models for the program. Napoleon A. McCallum, the former Los Angeles Raiders running back is one of the Promise Program's local role models. The former U.S. Naval Academy graduate, who now serves as the Director of Community Development for the Venetian Resort Hotel Casino, is a regular speaker at the NSC Promise Program schools. Success stories such as McCallum's demonstrate to middle-school students a college education is possible, and through hard work and encouragement from positive role models, their goals can be attained.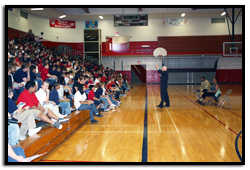 The sixth graders participating in the Promise Program receive a NSC Promise Certificate, which is good for a $500 scholarship toward their first semester at NSC if they graduate from high school and fulfill the college's admission requirements. Each year, Nevada State College sends the Promise Program students a postcard reminding them to keep their promise of ultimately pursuing a college degree
For additional information on scholarship and financial aid opportunities at Nevada State College, please visit https://nsc.edu/552.asp.