By Mandi Enger
Nevada State College (NSC) was honored to join the University of Nevada Las Vegas (UNLV) to establish an at-large or joint institution chapter of the Sigma Theta Tau International (STTI) honor society on May 10, 2012.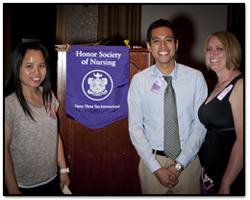 The chapter name, Zeta Kappa, was given to the society by STTI during its original formation with the UNLV School of Nursing in 1981 and will now continue to be used for the UNLV/NSC chapter.
The nursing faculties at NSC and UNLV have always been very collaborative. NSC faculty and students have been actively participating in Zeta Kappa STTI events for the last five years, said Shirlee Snyder, dean of nursing at NSC. The at-large STTI chapter is just another example of the mutual support between the institutions.
The official chartering for the at-large chapter was held at the Dragon Ridge Country Club during the Zeta Kappa Chapter Annual Induction Ceremony where Dr. Carolyn Yucha, dean of nursing at UNLV presented Snyder with a Zeta Kappa At-Large Chapter plaque from the national STTI representative, Dana Bjarnason, PhD.
NSC's STTI membership plaque is currently on display in the School of Nursing lobby, Basic and Water I, suite 200.
Founded in 1922 by six nursing students from the Indiana University Training School for Nurses, STTI is the only professional nursing honor society in the world. The organization is dedicated to supporting the scholarship and excellence of nurses in the field.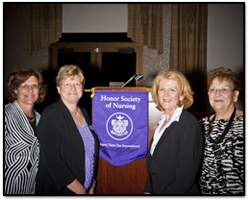 Each year, qualifying undergraduate nursing students in their junior or senior years are invited to join STTI. Students must demonstrate excellence in scholarship by achieving a 3.0 GPA or higher and rank in the upper 35% of their class. Additionally, students must demonstrate leadership potential. Practicing nurses may also become eligible to join the society based upon their achievements in the field.
Members of STTI are eligible for scholarship and grant opportunities and can attend professional development trainings as well as local, national and international society networking events. Undergraduate nursing students accepted into the society wear purple chords during their commencement to signify their membership.
The 2012 Zeta Kappa Chapter At-Large induction ceremony celebrated the acceptance of new nursing students from NSC, UNLV and Touro University as well as nurse leaders from the community. NSC was proudly represented by 21 new inductees.
It's quite an honor for students and practicing nurses to be asked to join the society and quite an honor for our college to join with UNLV as the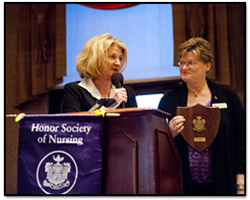 Zeta Kappa Chapter At-Large, added Snyder, an active STTI member since 1973.
The chapter is currently in the planning stages for its next membership event scheduled tentatively for the fall.