by Rebecca Zisch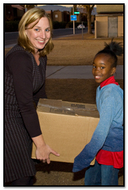 On Wednesday, December 12, Santa Claus came early to a one-bedroom apartment in a public housing development in Las Vegas. Over 4000 donated books were delivered by representatives of the Girl Scouts of Frontier Council to be read and enjoyed by the children who participate in an after-school tutoring program at the Ernie Cragin development near Bonanza and 28th Street.
The children all came outside to see the heavy boxes unloaded and could barely contain themselves as they dove into the piles of books. They were shouting, I am so excited! and I love this book! Their eager energy was for a true joy of reading.
The small apartment where the books were delivered serves as the classroom for the Scholarly Math and Reading Tutoring (SMART) program, a six-month old partnership between the Nevada State College School of Education and the Housing Authority of the City of Las Vegas (HACLV).
Regional Girl Scouts had an extraordinarily successful book drive as part of their fall reading program called Treasure Your Mind. They reportedly hoped to collect about 1000 books, but due to so much generosity that goal was easily surpassed. Books came in from Girl Scout troupes from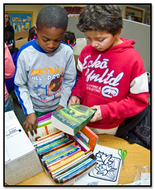 throughout the Frontier Council's jurisdiction, including Tonopah, Needles and Baker, California. Toni Carey, Director of Product Sales and In-School Programs was one of the people who delivered the thousands of books. We just thought this was a way to collect books for someone else who might need them.
Isis Medina is an NSC alum who currently teaches at the Innovations Charter School. She supervised SMART during the summer and helped coordinate the book donation from the Girl Scouts. She says the books will have an enormous impact on the program. Now we have more than enough books for the children in our program to read during free time. But this also means that we can use money that we would have spent on reading materials for other supplies that we really need.
Program Supervisor Michelle Segal was amazed by the donation. This is overwhelming. We are so blessed. These books will stock our library here, but we're also going to be able to pay it forward by passing on books to so many other organizations that are in need.
Through SMART, elementary-age children who live in nearby public assistance housing have a place to gather after school to get help with their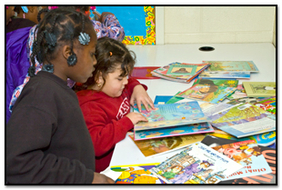 schoolwork from NSC Education students and licensed teachers. They also provide learning enhancement opportunities like books and games they don't have at school or home and field trips to nearby places that the children may not have experienced before, like Davis Nursery and S2 Art Center.
Al Conklin, Supportive Service Manager for HACLV, initiated the SMART partnership with NSC and is enthusiastic about the results so far. In this neighborhood, almost every child is performing below grade level. Putting a tutorial site right in the community brought a lot of buy-in for the program from the residents I couldn't be more happy that NSC jumped up to the plate this [partnership] was a perfect fit.
Conklin saw the need for an after-school program, but it was important that it be an educational atmosphere. I wanted these kids to have someplace to go where they could improve their performance in school. Structure, curriculum, everything's there [at SMART]. The kids come into a wonderful learning environment and that has turned behavior around.
The program began in June 2007 as a summer program, but its success encouraged everyone to continue the collaboration into this fall. And because the program is consistently at capacity, there is even talk of expanding the program to an additional location or a larger space next year.
The small apartment where SMART is located has been fashioned to look more like a classroom, with child-size tables and chairs and colorful drawings and posters on the walls. Its single bedroom is used as an office for Michelle Segal, the Program Supervisor and NSC alum, and other alumni, faculty and students who come to supervise the program and tutor the children.
On any given afternoon, there will be 10 16 students, two tutors and a supervisor at the SMART tutoring center. The students have to be registered for the program and they attend most afternoons. While the tutoring is specifically for elementary age children, Clairin DeMartini, Assistant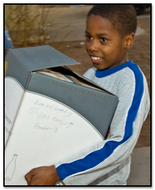 Professor of Education, says that they have been able to incorporate some older children into the program, as well. Supervisors have been able to mentor 6th graders and middle and high school age students have volunteered to help in the tutoring center and assist with field trips.
DeMartini sees the added benefit of SMART as the opportunity for NSC's School of Education students to work as paid tutors. This is an authentic teaching experience. It's a chance to work in a diverse learning environment that might encourage them to return to a diverse community to teach we would like to help fill schools in this and similar neighborhoods with quality teachers.
NSC Sophomore Erica Chavez is a SMART tutor gaining just that experience. Dr. [Rho] Hudson told us about the tutoring center in class and I thought this would be a good opportunity to work with kids since I'm going into the Education field. I love coming here and working with the kids. Dr. Hudson and DeMartini coordinate the program for the School of Education.
According to Medina, these books are a great addition to the student's time at SMART and learning that goes on at home. [The children] can take them home. [The books] will definitely enhance their education here and at school, but it will also promote literacy at home.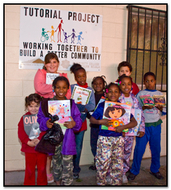 Medina announced that each child could choose two books to take home to keep that night. The younger children flocked to anything with a character they recognized, like Elmo, Babar or Winnie the Pooh. One 5th grade boy who had read Harry Potter books before, was excited by a hard-back copy of Harry Potter and the Half-Blood Prince. A 5th grade girl was clutching a copy of Charlotte's Web. She had seen both film versions of the book and was excited to read it herself. I used to get straight As, she said, I started coming here this fall with my cousin to help me get better grades again I really like coming here!
For more information on Nevada State College, call: 702.992.2000 or visit nsc.edu.