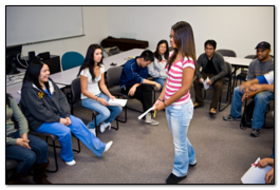 Students at Nevada State College are fortunate to be a part of a diverse campus community. Over the past semester, several new student organizations have formed, which celebrate culture and heritage. The Asian Pacific Islander Coalition (APIC), Black Student Organization (BSO), and Native American Club are just some of NSC's new organizations creating a cultural exchange on campus.
As a college that reflects the diversity of Las Vegas, we need to support groups that want to express their pride in their culture, said Dr. René Cantú, Nevada State College Vice President of Multicultural Affairs.
The Asian Pacific Islander Coalition (APIC) was started as a way to promote culture and community outreach. Co-Presidents Corinne Eugenio and Derick Manabat developed four pillars which sustain these goals, Culture, Community, Interaction and Unity.
During APIC's early stages in the spring of 2008, the organization set out to create an organization on campus that fostered a welcoming atmosphere amongst incoming freshman and existing NSC students. Our organization is important because we provide a positive impact on the student body. Ghandi once said to Be the change you wish to see in the world, and this is what APIC is trying to achieve through our work, said Eugenio.
Similarly, the BSO has the objective of being a haven of support for NSC students and the campus community. One of our main goals is to be there for each other, said BSO Vice President Greg Ross. We want to build relationships, promote academic success, and instill confidence in students at NSC, said Ross.
The Native American Club at NSC is still in the recruitment phase, actively seeking members. Club leader Shianne McGregor was inspired to begin the organization seeing the under representation of Native Americans in Higher Education. There are only 1.1% of Natives at NSC. This figure is higher than the 0.9% for Clark County, but still very low compared to other ethnicities attending college. Ultimately, we would like to help that number grow through our outreach, said McGregor.
The broad representation of cultures in NSC's student organizations presents an opportunity for learning and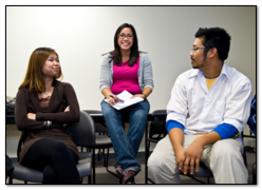 awareness on campus and in the Henderson community. The multicultural student organizations are open to all NSC students, regardless of ethnicity, which allows students a chance to learn about cultures and customs different from their own. In addition, having a diverse representation of cultures in the student organizations creates a sense of community in the student population. These organizations are the beginning of unity on our campus, said BSO Vice President Ross.
Through being involved in a student organization, members have the chance to develop their communication and leadership skills, which are invaluable for success in any field. When students get involved in clubs, they learn a lot about leadership that can be applied later in life whether it is in their work, or with a community, public, or non-profit organization, says Dr. Cantú.
Besides leadership development and cultural and community outreach, these student organizations offer an aspect of support and fellowship to its members. [These organizations] help provide a sense of belonging and pride in themselves and each other. The students find a voice on campus as well as in the community, said Dr. Cantú.
APIC and BSO will be collaborating with the Department of Multicultural Affairs to work on Crossroads, a new program that teaches high risk seventh and eighth grade students the skills they need to become more engaged in the educational process. Joey Lopez, Community Service Coordinator for APIC believes these outreach efforts provide student members a valued and rewarding experience by giving to the community and representing NSC in a positive arena.
A vast array of multicultural student organizations present a chance for NSC students to be in an environment where learning and experiencing different cultures is possible. This exchange on campus makes for a well-rounded educational experience within an inclusive and diverse climate.
For more information on Nevada State College, call: 702.990.2000 or visit: nsc.edu.