Campus Address Viewing Options
YouTube (five video segments)
PDF Transcript 
Before I begin my address, I'd like to take a moment to honor our past president and dear friend, Dr. Fred Maryanski. President Maryanski was a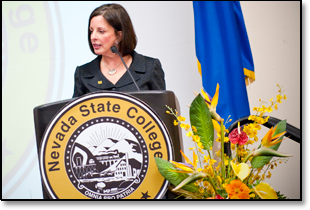 kind and honorable leader, whose passion for NSC was unsurpassed. His contributions to this institution made a lasting impression which will not be forgotten. Please join me for a minute of silence on behalf of Fred. Thank You.
Colleagues and Community Members:
I am honored to be speaking here today for the first time as President of Nevada State College. Many ask, what do you hope to accomplish in this role? My answer is always the same. It's what I hope to accomplish in any role; to make a difference; to fill a need; to create opportunity.
I'd like to read to you an email I received recently from a former student that illustrates what I mean by making a difference.
"Hello Dr. Di Mare,
It's Archie Tedoco. I was a student of yours at Cal State Los Angeles between 1984-87. I was in a Fraternity and you were a guest speaker at one of our events. Hope you recall who I am.
I completed my BA in communications in 1996 .it took me a long time. I returned back to school in 1997at Cal State Dominguez Hills to study Occupational Therapy and graduated in 2000 with a BS in Occupational Therapy. For the past nine years I have worked at Kaiser, West Los Angeles as an OT specializing in hand rehabilitation. I love my work. In addition to working full time, I am once again a student at CSULA. I am in the Master of Science, Healthcare Administration Program and will graduate spring 2011.
Life is good Just wanted to say hello and tell you that you were a positive influence on my life!"
None of you would be sitting here today, if you thought you couldn't make a difference. I know you believe you made a difference through the creation of a state college in the City of Henderson. You filled a need. There is a need for Nevada State College because without it, few of our students would receive a degree: A degree that will make a difference throughout their lives.
Aristotle said, in times of prosperity, an education is ornamental, in times of adversity it is a necessity. We are in times of adversity now and we need education more than ever. We need Nevada State College.
And that need is one that began long before any of us arrived here at our beloved institution. It started over 40 years ago when Las Vegas was still segregated, and good jobs were difficult to find for all and particularly for those who were minority and underrepresented.
One of our own foundation board members graduated from high school in 1958 and realized she would not be able to accomplish her dream to attend college. It was just too costly. There were not many scholarships for people of color or those of diverse background available during those times. So, she found a job and despite her lack of formal education, she became a successful business woman and a pillar of the community.
But the desire for the opportunity the choice to attend college never left this woman's heart. It is for that reason that NSC's own trustee, Hannah Brown, continues to work to raise funds for the college so that others may have the opportunity she never had. Yes, there was a need for the state college, many years ago, and there always will be.
In the late 90's visionaries in the City of Henderson reaffirmed that need. Some tell the story that a number of citizens came together in a small parlor, over tea, and sketched out their own master plan for the college.
In those early days, founders of Nevada State College provided start-up funding for our college, prior to its opening in 2002. Without those monies, the college would not exist today.
To better understand the significance of those contributions, it is important to note that Nevada State College is the only public startup in the last 25 years to have been wholly underwritten by the private sector. The following six institutions received state appropriations and these amounts were operating dollars only:
Arizona State University-West
$10 Million
California State University-Channel Islands
$28 Million
California State University-Monterey Bay
$24 Million
Florida Gulf Coast University
$14 Million
University of California
$66 Million
Nevada State College
$625,000
NSC has had to play catch up. And it has done so brilliantly thanks to every one of you sitting in this room. The budget crisis isn't new to us. We have been in a budget crisis since the day the college opened.
But has that stopped any of us from moving the college forward. No, it has not. In the past year Nevada State College has experienced many successes which I want to share with you today.
But first let me thank those of you, faculty, staff, students, and community members who fought for our college last year. During one of the most difficult economic times in our history, you went to Carson City, spoke with legislators, appeared before the Board of Regents, and wrote letters to our constituencies.
Staff members, you took the hit on the front lines as you always do. From dealing with students who need to register, to supporting the many events we hold for our students, and to answering frantic phone calls, most of them mine, asking what our enrollments were for that day. You are the soul of the institution.
Students, while you were attending classes, attempting to stay current with your studies, and tending to your families, you nevertheless took the time to wear gold and speak for your college. You have already become responsible citizens who defend what they believe in.
Faculty, many of you came to Nevada State College directly after receiving your degrees in addition to the normal requirements of teaching your classes, continuing your scholarship, and engaging the community, you built and continue to defend this college.
You are my role model.
And because of your dedication, perceptions of Nevada State College are changing and for the better. Based on a study conducted by Brand Outlook, perceptions of the college compared to other institutions in the state have improved significantly over the past year.
In comparing results year over year, target audiences conveyed a greater awareness and favorability toward NSC. These impressions related to a wide variety of aspects related to NSC, from affordability to class size.
NSC has gained ground in the areas of esteem. Examples include perceptions that NSC will get students into graduate programs, that the degree looks good on a resume. The survey showed that students would be proud to tell others they attend NSC.
And we should be proud of these perceptions. Particularly considering that during the past year, many of us heard a myriad of myths regarding the state of our campus.
For example, it was rumored that our enrollments were flat for this fall. Some cited our graduation rates as abysmal. The registrar and admissions office had to tell students who called in that Nevada State College was not closing or being subsumed by another institution.
Yes, those were some of the rumors about the state of our campus, but now, let me give you the facts:
NSC's headcount increased from Fall 2008-Fall 2009 by 18%, the largest increase in the NSHE system
NSC's FTE-Full Time Equivalent increased from Fall 2008-Fall 2009 by 21%
NSC's retention rate for first-time full-time freshmen increased this past year from 54% to 67%. For those of us who are math challenged that is an increase of 13% in one year.
Furthermore, the national rate for retention at public 4-year institutions with open admissions (generally open to all with H.S. diploma or equivalent) is 58%. That means that NSC is 9% above the national norm.
NSC's default loan rate of 5% is below the national average for public institutions which is 6%. By the way, the for-profits, have the greatest default rate – 11%
Finally, we have heard much about the state of NSC's graduation rates. We can do better, I agree, but in comparison to the national rates, we are not the failure some would claim. The NSC 5-year graduation rate for the time period 2005-2010 is 15%. The national graduation rate for public institutions is 21%–we are not far behind folks but that is not good enough. We must find ways to encourage our students to graduate in a more time efficient manner.
While the entire campus works to ensure these successes, the heaviest burden falls on our colleagues in student services areas, they are on campus on Saturdays, attend orientations, and visit our surrounding high schools. They provide the type of customer service that keeps our students coming back while at the same time, undertaking a massive software conversion project, or as we all know it, project iNtegrate.
In regard to our academic programs, we have seen many accomplishments this past year.
The School of Nursing's NCLEX annual pass rates reached an all-time high this year of 95%. Currently SON is aiming for a 100% pass rate which I have no doubt they will achieve.
As well, the School of Nursing received its 10-year approval from its professional accrediting agency, the Commission on Collegiate Nursing Education (CCNE), the maximum number of years possible.
SOE, the School of Education, is the only educational program in the state to offer a certificate in TESL (Teaching English as A Second Language).
350 Clark County School Teachers attended Nevada State College to receive this certificate.
School of Education also saw the largest graduating class in its elementary degree program which is offered in partnership with Western Nevada College. NSC has a state-wide mission and will continue to partner with our sister institutions to better serve the rural areas.
The School of Liberal Arts and Sciences serves over 1300 of our students, many of whom are fortunate to have the First Year Experience. FYE is a program which groups students into clusters allowing them to learn, study, and grow together. Courses are designed to apply concepts to real world situations. For example, one of our basic math courses, Math 120, was themed around Polling, Voting, and Presidential Elections.
TECHNOLOGY
Part of what we consider to be programming is technology. Our physical facilities and the integration and utilization of technology across the college are state-of-the-art.
NSC students benefit from all of the classrooms which feature cutting-edge lecture room technology. For example, the sympodiums serve as computerized whiteboards that can be instantly archived and uploaded to online course shells for students to reference later while studying.
The Elmo projectors allow for real-time video and hard copy media projection of books, artwork, and archeological artifacts. To assess real-time student learning, faculty members use the iClicker system which allows for instant polling of content mastery and impromptu quizzes to engage students in course material. And we have infused iPad technology across the campus, including specialized applications in our environmental science, psychology, astronomy, and education courses.
The science laboratories in our LAS Building feature cutting-edge biology, chemistry, and physics equipment. Our undergraduate students have the rare opportunity to conduct small immunological research projects using the flow cytometry technology that is found in state-of-the-art cancer research labs. Our equipment gives students the hands-on technological skills they need to be highly competitive for biotechnology and biopharmaceutical jobs.
At the Clinical simulation center, our nursing students participate in a wide variety of high-tech simulation activities that provide students with the opportunity to increase their clinical decision-making skills. These activities prepare our students to combine psycho motor skills with critical thinking and real-time problem solving in a safe environment before they practice these skills in clinical settings. In each of these simulations students practice these skills with computerized simulations that provide real-time physiological parameters such as chest movements, changing vital signs or dilating pupils.
Our Instructional Technology Unit received national Blackboard Catalyst Award from Bb World for Innovative Technology. Yes, I said the unit that unit has 2 and a half permanent employees, yet it managed to support our new program, The Technology Fellows Institute, which has now graduated 12 fellows.
NSC and CoH are co-sponsoring the Southwest Technology Showcase (STS) in November 2010 the first regional conference of its kind held in the state of Nevada with participants from over 5 states attending.
STATE OF STUDENTS
NSSA starts the year with the largest Student Government in the history of NSC with 7 Executive Officers and 12 Senators
Two of NSC's science students, Z Feng and Delceta Morgan, received NASA space grants of $2500
School of Nursing Students provide aid and education for African Refugee's through their community health nursing practice course
SOE students, Zachery Peters and Stacy Wald, were selected by the City of Henderson and the Office of Economic Development to go to Korea as part of a Summer 2010 Exchange Program
NSC's Upward Bound program serves students across the valley and provides fundamental support to participants in their preparation for college entrance.
STATE OF THE FACULTY & STAFF
Assistant Dean, Roxanne Stansbury and the Instructional Technology Team, Sam McCool and Tonya Buchan facilitated the first Online Pedagogy Certificate Training Program for 15 part time and full-time faculty across the three schools
Few faculty receive Fulbright s, but SOE's Dr. Kevin Graziano has been placed on the roster for the Fulbright Specialist Program and is developing a project in the area of TESL and multicultural education
Dr. Vu Dong provided humanitarian medical efforts in Haiti after the recent earthquake
Dr. Robin Herlands is developing a collaborative research project with the San Diego Zoological Society and the Desert Tortoise Conservation Center
Dr. Amy Chaffin and Cathy Adams presented their research and findings on the hearing voices teaching strategy the only model of its kind in the United States
Associate VP of Development, Dr. Russell Raker, along with several members of our Foundation Board, established the Gift Planning Advisors group, who are sponsoring the second annual Gift Planning Advisory Conference here in Henderson this month.
Dean Shirlee Snyder was invited to lecture in the Philippines where she spoke to over 2,000 nurses and hospital administrators about her book Fundamentals of Nursing which has been translated into 16 different languages
Dr. Peter La Chapelle received a grant from the Southwest Oral History Association to collect oral histories of Henderson residents to tell the history of the community and jobs from the 1940s-1960 s. Board member, Selma Bartlett is just one of our citizens who will be invited to give her perspective on the evolution of Henderson.
THE FUTURE
The following are my aspirations for the college.
In the area of Technology, we, as an institution, must:
Pursue grant opportunities in Science, Technology, Engineering and Mathematics (STEM) to increase number of math and science teachers in the state of Nevada
Expand the area of library & instructional technologies.
Continue our Technology Fellows Institute which serves as a model nationwide and will continue to enhance the professional development opportunities for our faculty and staff.
In the areas of Sustainability & Growth:
In regard to our physical campus master plan, we must:
Embrace the opportunity to be a model of efficient and sustainable development and operations.
The academic curriculum should support the physical plant by including issues on sustainability in our curriculum
Collaborate with the City of Henderson to build our campus and have a true Town & Gown Relationship
Mike Benjamin, one of our Board members, told former Mayor Gibson Jim, every good city has a good state college.
Finally, we must explore alternative financial models to support the build out of our campus. We must see that the Nursing and Sciences Building is constructed in the near future despite the state of the economy.
I will be meeting this Friday with former Senator Warren Hardy, Chair Glenn Christenson, and cabinet members to discuss this very matter. Our students need and deserve another building so that they have every opportunity to pursue their education and dreams.
In terms of System-wide Collaboration:
The NSC administration, faculty and staff, students and community supporters will work closely with the Chancellor and the Board of Regents to education the public and our legislators on the need for Nevada State College and education overall.
CONCLUSION
I have been in education all of my life and have never seen times like these we must change, and we must think innovatively.
But I promise you this; we will never do so by giving up rigor, by becoming a diploma mill, by forgetting that our students are our most precious resource. They believe in us, and we will guide them through these times when change must occur. But we are, and we will always be stewards of education that is our destiny.