By Mandi Enger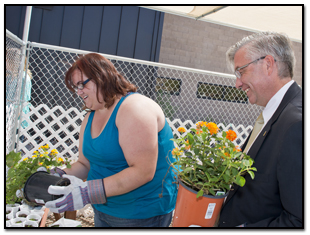 New to the roster of Nevada State College (NSC) student organizations, The Fifth Element science club was proud to launch an organic community garden during an on-campus ceremony this September. The 12 x 12 garden is located on the west end of the college's Liberal Arts & Sciences building.
Our vision was to create a fully organic community garden on NSC grounds for the campus to enjoy, said the club's president Jessica Milliron during the presentation. We went on a journey developing plans for the garden and are pleased to see it come alive today. Milliron is currently a sophomore at the college.
During the last few months, the student organization developed the plans for building the garden, cultivated the first plants in the college's biology lab and developed a plan for sustaining the garden using deionized water.
Members of the campus community were invited by the organization to help transfer the initial crop of herbs, flowers and succulents into the garden's planters. NSC President Bart Patterson was the first to participate; choosing to plant a gold lantana.
Chives, green onions, parsley, extra curled dwarf parsley, chamomile, sweet basil, Genovese basil, Italian oregano, and succulents were also planted. The next phase of planting will take place in the spring a crop of various produce including tomatoes, onions, and corn.
Moving forward, we invite all members of the NSC campus to come into the garden, gather herbs for their kitchen and enjoy all plants as they continue to grow, added Milliron.
Comprised of 10 members, The Fifth Element was recognized as an official NSC student organization this September. Their mission is to engage with campus and community members in order to garner an increased level of interest and understanding in all areas of science.