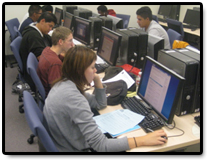 The TRIO Upward Bound Programs are pleased to announce that its second graduating class is headed to college this fall. During an exciting ceremony held this spring at Green Valley Ranch, all the participants were acknowledged for the devotion shown to their education. Additionally, nearly 20 participants received accolades for their tenacity in their pursuits of educational excellence from U. S. Senator Harry Reid, U. S. Representative Shelley Berkeley, Henderson Mayor Andy Hafen, Associate Vice President Russ Raker and Vice Provost Lee Young.
The partnership between the programs and the TRIO Parent Advisory Committee creates a bond that has made the difference in the lives of many participants. The TRIO Parent Advisory Committee headed by President Raymond Smith has been an integral component of the programs. Parents meet regularly to discuss issues that are pertinent to their families and the participants success. According to TRIO Director Kimberly Williams, the students and their families acknowledge the value added by the programs.
Nevada State College has partnered with the Clark County School District to serve 100 students from low-income and potential first-generation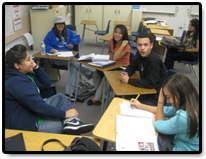 college families. Throughout the school year and during the summer, participants receive instruction in English, foreign language, mathematics, and laboratory sciences to name a few. Other program services include tutoring, mentoring, assistance with financial aid and scholarships, college tours, service learning opportunities and various field experiences. According to CCSD graduate Greg Ochoa, without the program he would not have considered attending college; however, he is now enrolled as a freshman at Nevada State College majoring in criminal justice.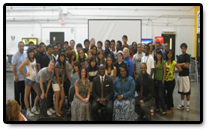 What's more is that Greg declares TRIO Upward Bound has carved the way for his younger brother and sister to get ready for college as well.
Nevada State College receives two federal grants in order to operate the TRIO Upward Bound Programs. Research has shown that an educated citizenry is critical to our economy, global competitiveness, national security and future generations. Based on the outcomes of the current federal budget negotiations, NSC hopes to be able to continue to serve high school students who possess the desire and aptitude to pursue postsecondary education.
For more information about TRIO, visit us at http://archive.nsc.edu/514.asp