By Jess Marvin
The School of Education at NSC is shaking up the way teachers teach, and students learn about how to write. Through the annual Writer's Workshop Extravaganza, NSC's pre-service teachers and local elementary students are brought together to learn from each other.
The School of Education course, Teaching Writing Across the Curriculum (EDRL 427), plays host the Writer's Workshop Extravaganza each year,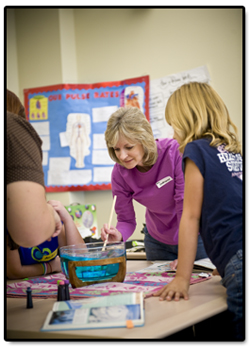 providing an excellent opportunity for education majors to get an authentic taste of classroom teaching. The course's focus is to elevate the student's abilities to create lesson plans in which their students can practice writing, regardless of the subject they are studying. [This class] helps our students learn skills practical to the classroom environment, said Clairin De Martini, School of Education Lecturer and workshop coordinator. Throughout the course, education majors are provided with a solid foundation for teaching writing across all topics throughout a K-12 setting. Each student is responsible for preparing a lesson plan for the Writer's Workshop, tailored to a specific age range. Participation in the workshop results in a win-win situation, as it allows education majors to apply their knowledge in a real-world setting while also encouraging younger students to write creatively.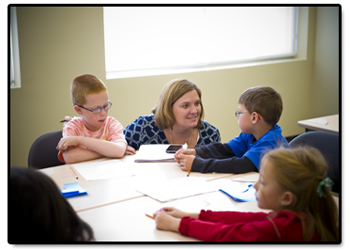 For the Writer's Extravaganza Workshop, pre-service elementary and secondary education teachers from the School of Education prepare mini lesson plans and carry them out with the participating children. Additionally, the workshop provides an excellent opportunity for education majors to face and overcome real classroom challenges. "Some kids are afraid of writing, said Samantha Orr, elementary education major. Orr, a senior who will soon begin her student teaching, believes the expertise she gained during the workshop will prepare her more effectively for the classroom. The skills I learned today will enable me to implement fun learning strategies into my classroom. I'm excited to put what I learned today into practice, said Orr.
As School of Education Lecturer Clairin De Martini explains, the event serves the NSC population in addition to the local community. This event is really three-fold, as we're helping local school children, preparing our pre-service teachers for the classroom, and welcoming back many of our alumni who come back to participate in this event, said De Martini.
Paul Mayorquin, a sophomore pre-service teacher participating in the event, got a little more than he bargained for. Mayorquin, a secondary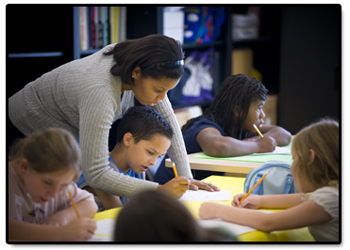 education major with a concentration in biology, was tasked with leading a group of kindergarteners in the lesson plans for the day. "Going into this, I didn't know what to expect since I'm majoring in secondary education. I didn't know if I would have anything to offer kindergarteners, explained Mayorquin. Paul's uncertainties soon passed as he realized there were many applicable lessons to be learned in working with the young children. What I learned today is that patience is necessary, regardless of the age group you're working with. I'll ultimately be teaching a different age group after graduating, but the same principles will still apply."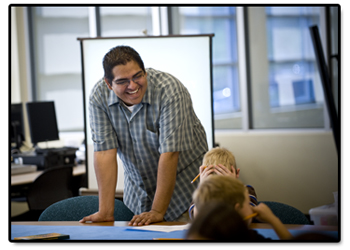 Over the past few years, the workshop has grown to include more elementary schools. This year, the workshop was honored to have Dooley and Taylor elementary schools participate. Elementary students new to the workshop found it inspiring. "By writing our own short stories today, we learned about writing in first-person, second-person, and third-person, said Kristina Henley, a new workshop participant from one of the local elementary schools. All of the people were really helpful, and I thought it was cool that they were students learning how to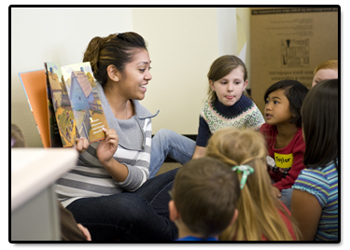 be teachers, said Henley. Some children at the event already had a great love for writing and soaked up the opportunity to expand their skills. One such participant, Angelina Herrera shared, "I liked that we can write about any subject we like, and it was fun I'm going to be a writer! Angelina, who has already won two writing contests, shared that it was Dr. Seuss who inspired her to write, and the workshop gave her a chance to do more of what she loves.
For Mayorquin, he hopes to one day inspire children such as Angelina Herrera. Many people are inspired to become teachers, because they had a great teacher along the way. I didn't always have that experience though, so in becoming a teacher, I'm looking forward to teaching my students that school can be a fun place. I'm hoping I can be a source of inspiration for students, said Mayorquin,
Fulfilling the needs of the educational community is one of Nevada State College's fundamental goals. The School of Education is achieving those goals through its mission of graduating responsible and competent teachers serving in schools throughout Nevada.