Undergraduate Research Programs
The Nevada IDeA (Institutional Development Award) Network of Biomedical Research Excellence (NV INBRE) summer research program, hosted by the Department of Physical and Life Sciences (PaLS), was established at Nevada State College in 2013. The program offers STEM undergraduate students who are considering careers in biomedical medical sciences an immersive and mentored hands-on research experience, allowing them to deepen their understanding and expertise in their respective fields.
The mission of the INBRE Summer Research Program is to foster faculty-mentored research as a fundamental component of undergraduate education, offering students especially those from first-generation and underrepresented backgrounds a multitude of benefits and providing them with a wide range of advantages to thrive in STEM career paths. Through this program, students acquire essential skills in critical analysis, problem-solving, communication, and the application of research methods.
In addition to its core objectives, the program offers travel support to students, enabling them to attend a 5-day GradFit workshop held at UNR in Reno. This workshop provides valuable insights into graduate school expectations and equips students with the necessary knowledge and skills to navigate the graduate school application process successfully.
The INBRE program also extends its support to the NS Career Services which organizes Grad Expo. This Grad Expo serves as a platform for students to interact with representatives from various graduate schools and potential employers, creating networking opportunities that can further their educational and career goals. The INBRE program recognizes the importance of connecting students with relevant stakeholders and resources to enhance their overall experience and increase their chances of success in both academia and the job market.
Program Period
The INBRE summer research program at NSU encompasses three distinct annual programs: FLARE, iSURF, and UROP, taking place from May to August. These programs run concurrently but differ in duration, spanning 5 weeks, 8 weeks, and 10 weeks, respectively.
FLARE: May-June
iSURF: May-July
UROP: May-August
Program Features
During this program period, student participants receive comprehensive training in laboratory safety and various relevant research and lab techniques, ensuring a solid foundation for their research endeavors.
In addition to the research component, students participating in the programs gain access to valuable professional development workshops and training that are provided weekly during the program period, including:
Laboratory Safety Training: Comprehensive training on laboratory safety protocols and practices.
Laboratory Research Skills/Scientific Equipment Training: Hands-on training in essential laboratory techniques and scientific equipment operation.
Keeping a Lab Notebook: Guidance on best practices for maintaining a thorough and organized scientific notebook.
Responsible Conduct of Research/Ethics: Training on ethical considerations and responsible conduct of research.
Preparing for Graduate School/GradFIT: Workshops and resources to help students prepare for the graduate school application process.
Finding Journal Articles: Techniques and strategies for effectively searching and accessing relevant journal articles.
Presenting a Journal Article (for Journal Club): Training on presenting and discussing scientific articles in a professional setting.
Interpreting and Creating Visual Representations of Data: Skills development in interpreting and creating visual representations of scientific data.
Preparing a Science Poster: Guidance on designing and presenting scientific posters for conferences or symposiums.
CV and Resume Preparation: Assistance in crafting effective CVs and resumes
These workshops and training sessions further enhance students' professional skills and readiness for future academic and career pursuits.
Smart Thinking Video Tutorial 
Can't find an NSC Tutor for the subject or time you need? Watch the above video for steps on accessing supplemental tutoring through Smarthinking
Social Activities
The program fosters a sense of camaraderie and celebrates cultural diversity through various cohort-building activities, including field trips, video and board games, scavenger hunts, and potluck events.
Research Symposium
Students have the opportunity to effectively communicate their findings to both the scientific community and the public. Following the summer research experience, students have the chance to present their research findings at a STEM research symposium held at Nevada State College, allowing them to share their work with peers and NSC community. Furthermore, students can showcase their research achievements at the Undergraduate Research Creative Works (URCW) conference at Nevada State College held during the Spring semester, as well as at national conferences.
Research Areas
There are numerous research topics within the fields of Chemistry, Biochemistry, Genetics, Immunology, Microbiology, Ecology, Hydrology, and Environmental Science where students can actively participate. Below are some of the ongoing faculty research topics:
Investigating the effect of applying an electric potential on a chemical species.
Measuring and extracting the decay rate constants of fluorescence intensities during prolonged exposure (photobleaching)
Nanoparticle Platforms: Transport properties of nanoparticle platforms for improved drug delivery.
Evolutionary Biology: Evolutionary history and distribution of plants.
Hydroponics: Studying hydroponic systems where nutrient-amended water provides plants their nutritional needs.
Population genetics and structure of coyotes and peregrine falcons in southern Nevada and determining relatedness and population dynamics.
Sediment and Spring water microbial community in the Spring mountains in the Las Vegas Valley
Identifying novel antibiotic producing bacteria from Las Vegas soils.
Spore germination in Clostridium difficile (C. diff) and Bacillus anthracis (anthrax).
Antigen stability when bound with the major histocompatibility complex (MHC).
Molecular biology of DNA repair proteins.
Air Quality Analysis: Analyzing air quality data to relate concentrations of particulate matter with environmental conditions.
Eligibility
The INBRE program is open to undergraduates enrolled at Nevada State College who are:
U.S. citizen or with a valid employment authorization document (EAD)
Currently enrolled in a STEM degree program at NSC
Earning their first bachelor's degree in a STEM field
Continuing student, enrolled in Fall classes following the summer research program period
Priority is given to students from underrepresented and first-generation backgrounds.
Preference will be given to applicants who have not received an INBRE award in the past.
Application Process
Students applying for iSURF must complete an NSC iSURF online application and write a personal statement describing their academic background, research interests, any related experience, and what they hope to gain from the program.
Students applying for the UROP and FLARE programs must complete a UNR-UROP or FLARE online applications.
Selection Process for iSURF, UROP and FLARE
Selection for the iSURF program is made based on the eligibility criteria set by NV INBRE and NSU. Students are matched with a faculty mentor, taking into account their application essay, research interests, and mentor availability. The selection process and program requirements for the UROP and FLARE programs are handled by NV INBRE at UNR.
Program Requirements for the iSURF Program  
Mandatory attendance at an orientation session, which includes: Laboratory safety training to ensure student preparedness and program pre-survey and registrations.
Full-time mentored research: 8 hours/day and 40 hours/week.
Participation in a series of seminars and workshops.
Presentation of research projects at a poster symposium.
Given the intensive and immersive nature of the research, students are not allowed to engage in summer coursework or hold employment during the program period.
Compensation
Compensation for the three programs varies due to the duration of each programs. The award amount for the NSC INBRE Summer Undergraduate Research Fellowship (iSURF) 8-week program is $6000. The award amount for the UNR UROP which is a mentor matching 10-week program is $7200, and the award amount for the UNR FLARE, also a mentor matching 5-week program is $3000. Students chosen for these programs get hired as summer student researchers. They work 40 hours each week during the program period to earn the full award amount.
Financial Aid Disclaimer
The INBRE program awards students with the aforementioned award amounts. Students are compensated based on an hourly rate for the research work performed during the program period. The income received from these programs is subject to federal tax regulations and may impact the student's overall income level and eligibility for financial aid, including student loans and other scholarship/fellowship opportunities. As this may raise concerns, it is highly recommended that students consult with a campus financial aid advisor for personalized guidance and clarification.
Important Program Dates and Timelines
November 1 – Application open to students
February 6 – Application closes to students
March 10 – Offers of participation to students
March 17 – Student decision deadline
Mid-May–August: Summer research program period.
August: NV INBRE Conference
 September-October: NSU STEM Poster symposiums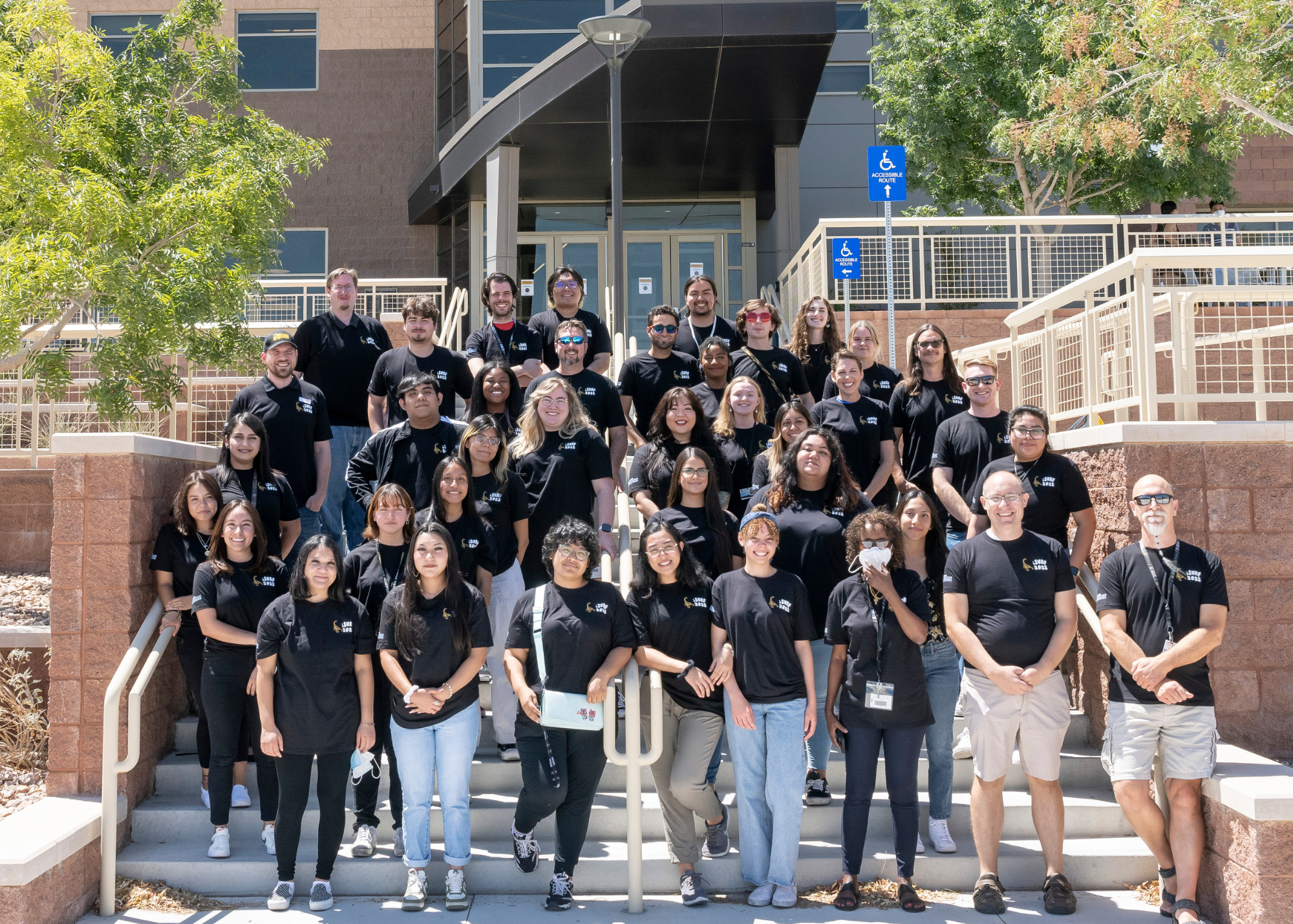 Program Director:  Aster Sigel, PhD.
NSC Site Coordinator: Amber Howerton, PhD.
School​ ​of​ ​Liberal​ ​Arts​, Sciences, & Business
Department of Physical and Life Sciences
Nevada State Collage
1300 Nevada State Drive LAS 157
Henderson, NV 89002