Diversity & Inclusion Task Force
The Diversity & Inclusion Task Force is committed to addressing a wide range issues across our campus. The dedicated members of the Diversity and Inclusion Task Force review and discuss Nevada State College programs, policies, and procedures that may impact the diversity of the student body and staff. We identify strategies and make recommendations to the President and the Vice President of College & Community Engagement to strengthen a coordinated approach to BE DIVERSE AND INCLUSIVE.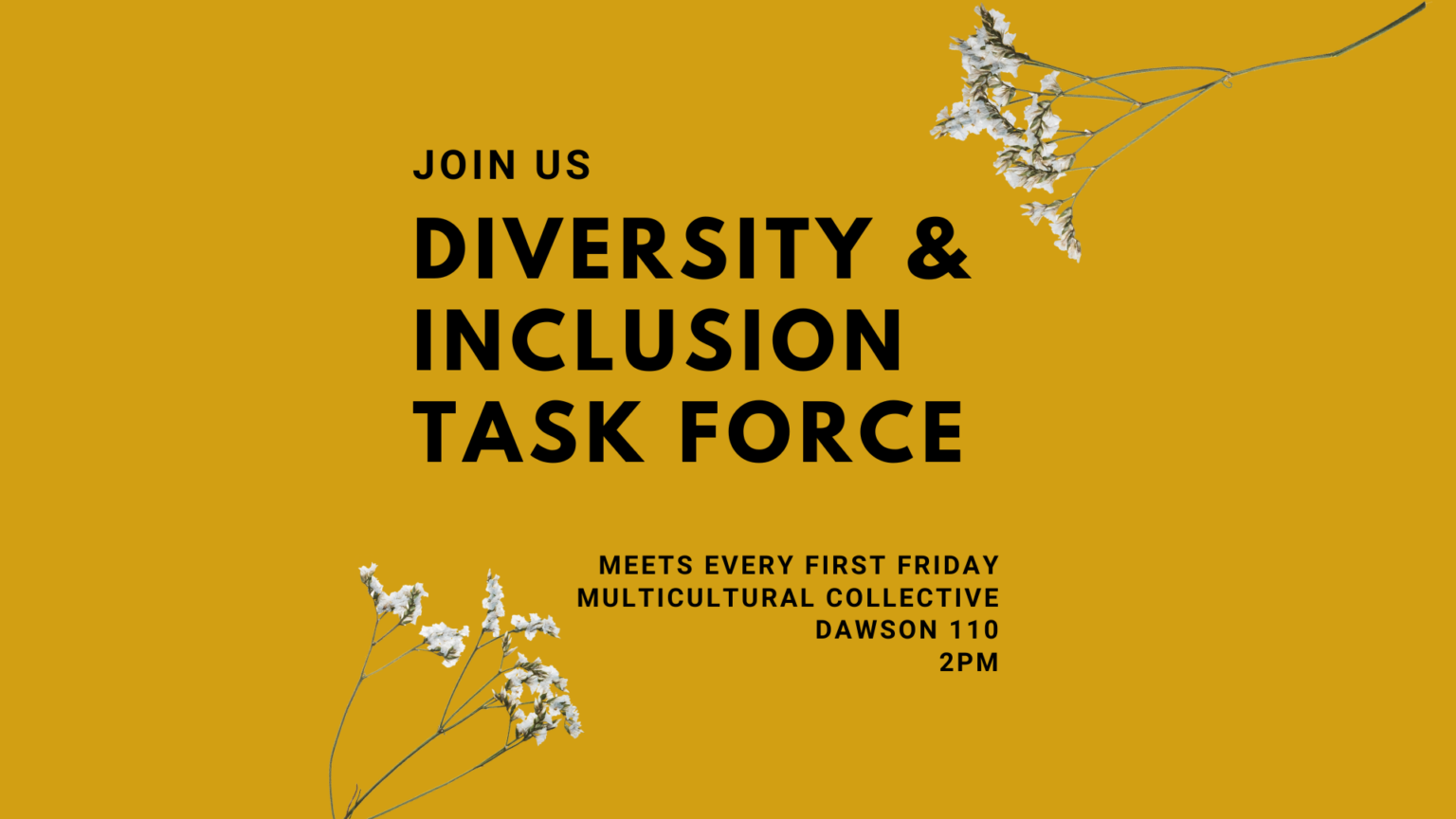 What type of student are you?
SUPPORTING DACA & UNDOCUMENTED STUDENT SUBCOMMITTEE 
First Wednesday of each month from 11am-12pm 
mariana.sarmiento@nevadastate.edu 
NATIVE & INDIGENOUS PEOPLES' COALITION 
First Monday of every month from 11-11:30 a.m 
The NAIPC's goals and interests include making a safe, welcoming, and inclusive learning and art space for our indigenous student body; raising university and college awareness of our Native learners; spreading information for the NSHE fee waiver, thereby increasing Native learner enrollment and the opportunity for Indigenous higher education; increasing awareness and support in our neighboring communities; collaborating with local and regional indigenous organizations; and promoting awareness of the rightful stewardship of our Native citizens. 
THE DIVERSITY & INCLUSION FACULTY RESOURCES REPOSITORY SUBCOMMITTEE 
Meets the second Thursday from 9 to 10 a.m. 
sierra.adare-tasiwoopaapi@nevadastate.edu 
In keeping with the Community, Equity, Diversity, and Inclusion (CEDI) Task Force's objectives to address a wide range of diversity and inclusion-related issues across our campus, the mission of the Diversity & Inclusion Faculty Resources Repository is to provide support for faculty seeking respectful, meaningful course content that includes multicultural perspectives with which to engage learners or to expand the lens through which individuals view diversity, inclusion, equity, equal access, accessibility, and community. 
SERVING LGBTQ+ SCORPIONS SUBCOMMITTEE MEETING 
Occurs every third Friday from 11:00 AM to 11:45 AM 
The objective of the Serving LGBTQ+ Scorpions Subcommittee is to promote a welcoming and affirming campus climate for LGBTQ+ Students, Staff, and Faculty members at Nevada State University.  We aim to do so by increasing awareness, education, and programing around LGBTQ+ initiatives, as well as advocating for equitable LGBTQ+ inclusion in the campus community. 
ASIAN AMERICAN AND PACIFIC ISLANDER SUBCOMMITTEE 
Monthly meetings on the 2nd or 3rd Tuesday of each month at 5pm via zoom
cecelia.fernan@nevadastate.edu
The AAPIA of NS University wanted to create an Asian community support among students, faculty, and staff. We wanted to have a unified voice that would support students' success and promote retention and job satisfaction among faculty and staff.

FOSTERING SCORPIONS FOR THE FUTURE SUBCOMMITTEE 
Monthly meetings will, as of now, occur on the first Tuesday of every month at 10am 
To develop outreach, raise awareness, and build support for Nevada State University students who have experienced foster care. (tentative) 
Attracting & Engaging Diverse Faculty & Staff
Black & African American Community
Civic Engagement
College Lingo 101
Melanated Mens Movement (M3)
Membership & Meetings
Our Diversity and Inclusion Task Force consists of Nevada State faculty, staff and student leaders who reflect the broad spectrum of interests and ideas across campus. Meetings are held the 1st Friday of every month at 2 p.m.
Please contact CEDI@NSC.EDU if you would like to BE A MEMBER.
Clubs & Organizations
Click here to learn more about diverse student clubs: BeEngaged.nsc.edu
Please feel free to reach out to the Diversity & Inclusion Task Force for more information about a subcommittee, and how to join! Subcommittees are made up dedicated #NSCCommunity members who volunteer their time to provide support in areas of need on our campus. Students, Staff and Faculty are all welcome to take part.