Visual Media (BA) 3+1 with TMCC
Finish Your Story At TMCC
This partnership with TMCC allows students to complete three years towards a BA in Visual Media at TMCC and complete their final year with NSC. The first two years are an AA in Graphic Arts and Media Technology (at TMCC), the third year is an Advanced Certificate in Graphic Arts and Media Technology (also at TMCC), and the final year is a BA in Visual Media with NSC. Students complete their final year on TMCC's campus, making the program a seamless path to a bachelor's degree.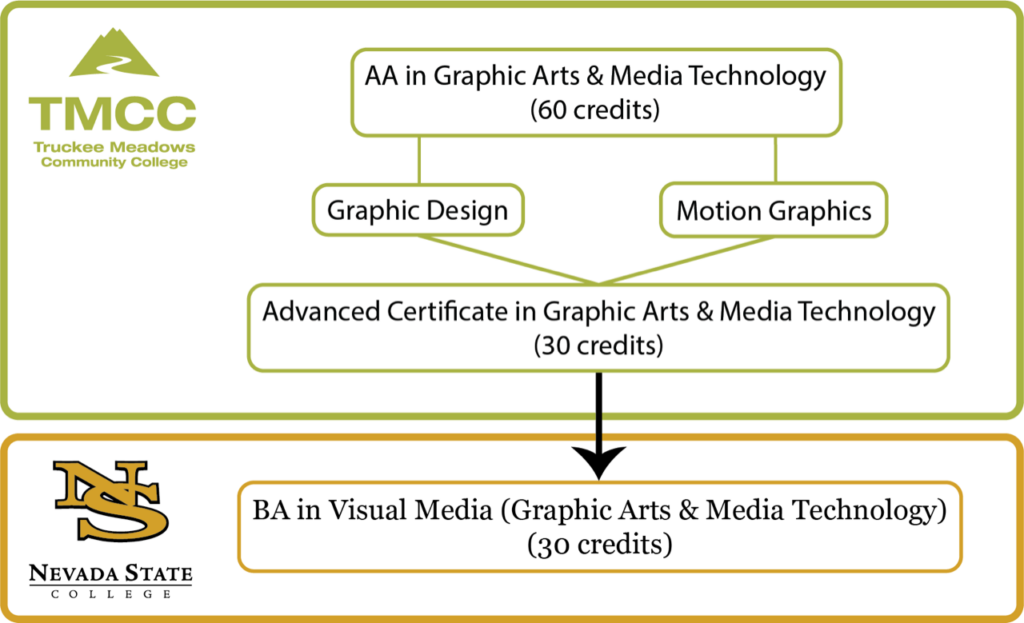 Demonstrate knowledge of the historical development of cinematic, animated, and/or photographic media

Analyze cinematic, animated, and/or photographic texts through a variety of critical and theoretical frames

Use software tools, cameras, and other production equipment to create compelling, high-quality films and/or images

Integrate or engage with historical precedent or critical or theoretical principles in media production

Demonstrate knowledge of industry standards and needs for media production
Use our Career & Salary data to find average salary and job information, along with the Top Skills you will gain by earning an Education/Instruction Minor from Nevada State University.
Class Search
Nevada State University has numerous degrees and programs, specialty program offerings, and online learning options to help you reach your academic goals. Find available courses using our Schedule of Classes tool.
Find a Tutor
Visit our Academic Success Center to find a tutor for this program.
Apply
Applying to Nevada State College is easy! Find out everything you need to know based on the type of student you are. Click the Apply Now button below to get started!
Once you've completed your AA in Graphic Arts and Media Technology (60 Credits) at TMCC and your Advanced Certificate in Graphic Arts and Media Technology (30 Credits), you'll take the following classes with NSC:
Communication/Writing (6 Credits)
Choose 2: COM 380 Women in Media, COM 412 Intercultural Communication, COM 431 – Visual Literacy, ENG 407A Fundamentals of Business Writing
Applied Theory and Criticism (Select 6 credits)
VIS 485 – Applied Theory in Media Production
VIS 486 – Applied History in Media Production
Visual Media Studies (3 Credit)
VIS 361 Concepts of Media Arts, VIS 487 Applied Theory in Visual Literacy, OR VIS 489 Special Topics in Visual Media Studies
Capstone Classes (6 credits)
VIS 490 – Senior Projects
VIS 496 – Senior Portfolio
Internship (3 credits)
VIS 499 Internship
Upper Division Electives (6 Credits)
Any upper division class from NSC.
Need More Information?
We'd love to provide you with more information regarding this program.