Dedicated to your success.
Welcome to Nevada State University
We're some of the first people you meet as a successful employment applicant with Nevada State University. As Human Resources professionals we are striving to move beyond policy enforcers to become strategic partners. We are focused on creating practices that allow employees to contribute their very best and realize their full potential.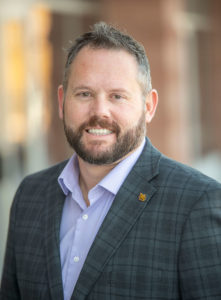 Thank you for visiting Nevada State University's Office of Human Resources web page. We are committed to developing and maintaining a high performance workforce that is rich in diversity, dedicated to continuous improvement, and focused on student success. It is our goal to sustain a work environment that maximizes employee satisfaction, promotes professional development, encourages input, and values expertise.
If you share in these commitments, are dedicated to student success, and seek opportunities to build and grow an incredible institution, I encourage you to consider Nevada State as an employer of choice.
To learn more about Nevada State University and see what it means to be part of the Scorpion Family, and to apply for current job openings, please click the "Careers" link above.
Respectfully,
Eric J. Gilliland
Associate Vice President of Human Resources